SHRM
The Society for Human Resource Management (SHRM) is the world's largest association devoted to human resource management. Representing more than 200,000 individual members, the Society's mission is to serve the needs of HR professionals by providing the most essential and comprehensive resources available. As an influential voice, the Society's mission is also to advance the human resource profession to ensure that HR is recognized as an essential partner in developing and executing organizational strategy. Founded in 1948, SHRM currently has more than 550 affiliated chapters and members in more than 100 countries.
SHRM's Members
SHRM is an individual membership organization, and members include HR professionals with the following titles:
President, CEO, Chairman, Partner, Principal
Chief HR Officer
Vice President of HR, Personnel
Assistant/Associate Vice President of HR
Director of HR, Personnel
Assistant/Associate Director of HR
Manager of HR, Personnel
HR Generalist
Supervisor
Specialist
Consultant
Administrator
Representative
Legal Counsel
Nearly forty percent have titles of director or above. Approximately fifty percent of members work in organizations with more than 500 employees, and approximately thirty-five percent are in manufacturing or service industries.
SHRM Local Chapter Network
SHRM has more than 560 affiliate chapters both in the United States and abroad, and provide additional programming and networking opportunities in your local area. SHRM chapters are autonomous organizations, so it is not automatic that you will be a member of your local chapter when you join SHRM at the national level, and vice versa. Information on how to join your SHRM local chapter is available at www.shrm.org/chapters. Those of you not currently members in SHRM should consider the following: SHRM provides awesome benefits and resources. The networking you can do between HR professionals across the country is incredible. The access to sample job descriptions and policies, handbook guides, and staying up-to-date with the most current happenings in the field of Human Resource Management is available at your fingertips 24/7. You can research best practices in any HR function. Your ability to voice your opinion and concerns regarding pending legislation has never been easier with HR Voice, a tool that allows you, as a member of SHRM, to write your congressmen. SHRM makes this process simple by providing talking points and "canned" letters you can use or customize before sending. For more information about SHRM or if interested in joining, click on the link below.
Daily news and information provided by the Society for Human Resource Management (SHRM)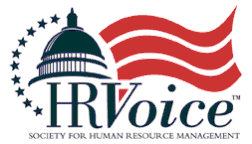 HR Voice FAQ
What is HRVoice?
As an SHRM member, you are automatically enrolled in HRVoice. HRVoice assists you in taking proactive steps to shape public policy affecting the HR profession. SHRM members, through the HRVoice program, can play an instrumental part in influencing legislation on the national and state levels.
What Effect Will My Involvement Have?
As an HR professional, your voice provides a unique perspective that your member of Congress may not have considered. By joining forces with other HR professionals, you directly affect the outcome of pending legislation and regulations. Your actions will ultimately benefit employers and employees all across the nation.
Do I Have To Be a Political Expert?
No. HRVoice is for political novices and seasoned professionals alike and is nonpartisan. HR professionals with an interest in the continued viability of the profession are the best representatives of the field to Congress. Tools to help you educate Members of Congress, such as SHRM Fact Sheets, quarterly newsletters featuring lobbying tips and legislative updates, and an HRVoice toolkit are available through this section of SHRM Online.
How Does It Work?
Members of HRVoice receive monthly legislative updates through the Washington and State Insider, a publication written by SHRM Governmental Affairs staff. You also periodically receive legislative alerts on bills introduced in Congress that will affect the workplace and require your professional input through phone calls, letters, faxes or meetings. Talking points and/or sample letters included in the alerts will serve as a guide for communicating with members of Congress. What you decide to do with this information is up to you. Other activities available include attending political media events, giving legislative updates at chapter meetings and state conferences, and even testifying before Congress.
Because most communications from SHRM are via e-mail, it is critical that we have your correct current e-mail address. Please visit our Member Services Guide to update your membership information.
How Can I Help?
Visit the Governmental Affairs web page and send an e-m.
Check Out Our Key Sponsors