Dr. Lillian Schumacher & Beatriz Jimenez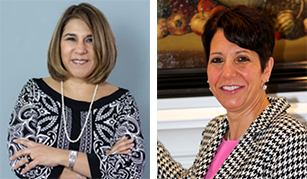 Best Practices for Building a Sustainable Diversity and Inclusion Program
Session Description
This interactive session will include a panel discussion where the presenters will discuss their D&I journey. The discussion will center around the key
factors that impacted the decision to implement a D&I strategy; tips for obtaining executive leadership buy-in; hurdles they encountered and how they overcame them. Attendees will also participate in table discussions to share key learnings and best practices.
Speaker Bio - Dr. Lillian Schumacher
Professional Summary

Over 30 years of experience in higher education and corporate environments in the areas of administrative leadership, program development, assessment, accreditation, teaching, training, strategic planning, budget preparation and oversight, staff selection and evaluation and fund raising.
More than 22 years' experience designing and teaching courses and workshops in the areas of organizational behavior and change, strategy, leadership, entrepreneurship, communication, career mapping, human resources, international business and global leadership, and other related classes.
More than 18 years serving as organizational consultant in areas of global leadership development, executive coaching, strategic planning, human resources, career coaching and change management.
High degree of enthusiasm for establishing creative, stimulating and positive environments.
Demonstrated ability to manage and advocate change processes in higher educational and corporate settings.
Approachable leadership style, with strong work ethic marked by dedication, initiative, integrity, and professionalism.

Professional Experience

President, Tiffin University (TU); served as Interim President, Vice President for Academic Affairs and Dean of the School of Business at TU until promotion. Before returning to Tiffin, with her family in 2010, Schumacher was an Associate Professor and founding Director of the PhD in Global Leadership program at Indiana Tech in Fort Wayne, IN. She also served briefly as the first Director of Assessment and Institutional Effectiveness at Chancellor University in Cleveland and built that department. Before that, she was an Assistant Professor in the Keith Busse School of Business and Entrepreneurial Leadership at the University of Saint Francis in Fort Wayne, and also served as the Graduate Program Director and Assessment Coordinator for the School.
Trained facilitator and executive coach specializing in Cultural Intelligence (CQ), Emotional and Social Competency Inventory (ESCI), DISC Personal Profile Systems, among others, and has done extensive consulting with both national and international companies. Her research interests include organizational leadership and change, strategic management, and cross-cultural sensitivity.
Lived and traveled extensively in the Middle East, Europe, and Asia.

Notable Involvement and Recognitions

Women's Career Excellence Award Recipient, Seneca Regional Chamber of Commerce, 2016
Ohio Foundation for Independent College (OFIC), Board of Trustee, (2018-Present)
Tiffin Community Foundation Board of Trustee, (2013-Present)
Ohio Campus Compact Board of Director, (2017-Present)
Webster Industries, Board Director, (2015-Present)
Seneca Industrial & Economic Development Corporation (SIEDC) Board Director, (2016-Present)
Industrial Manufacturing Council member, 2012-2015; Past President, (2013-2014)
Accreditation Council for Business Schools and Programs (ACBSP), Global Business Education Committee, October 2010-2015, Chair (2013-2015); ACBSP Evaluator, October 2011-December 2015; Mentor (2013-Present)
European Council for Business Education (ECBE), Board Member, 2012-2016

Professional Education

Doctorate is in Leadership Studies; Master's in Organization Development and one in Higher Education Administration, all from Bowling Green State University in Bowling Green, OH. Bachelor's degree is in Economics, from Allegheny College in Meadville, PA.


Speaker Bio -Beatriz Jimenez

Beatriz Jimenez serves as senior director of global talent management and diversity and inclusion for Dana. In this role, she is responsible for ensuring that Dana has policies and practices in place, globally, to attract, retain, and utilize the best talent within the organization. In addition, she is a champion for diversity and inclusion initiatives and works to advance a culture where employees' ideas and perspectives are heard and valued.

Beatriz joined Dana in 2009 as human resources (HR) country lead for Dana Mexico responsible for leading HR initiatives across all product and functional groups in the region while also supporting Dana's overall HR transformation efforts. In 2011, she joined Dana Brazil Ltd. in Porto Alegre, Brazil, as vice president of HR SA before relocating to the world headquarters in 2014 to lead HR initiatives for Dana's Light Vehicle and Commercial Vehicle business units. She assumed her current role in 2016.

Prior to joining Dana, Beatriz worked for Grupo ADO as a corporate director responsible for labor relations, training, organizational development, and personnel administration. She also served in several key roles involving labor relations, training, and organizational development for General Motors, including an assignment at NUMMI, the joint venture between GM and Toyota in Fremont, California.

Beatriz earned a bachelor's degree in industrial relations from Universidad Iberoamericana and a master's degree in organizational development from Bowling Green State University.
Check Out Our Key Sponsors