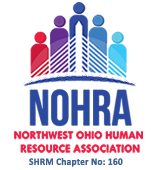 2016 FREE WEBINAR Department of Labor - Final Overtime Rule
Thursday, May 26, 2016 from 10:00 AM to 11:00 AM
Please join NOHRA for a FREE webinar on Thursday, May 26, 2016 from 10:00 a.m. until 11:00 a.m. as Jim Yates, Esq., SHRM-SCP, SPHR and Sarah Pawlicki, Esq., SHRM-SCP, SPHR of Eastman & Smith, LLC., provide information on the Final Overtime Rule. Thank you to Eastman & Smith, LLC for sponsoring this webinar!




The Department of Labor issued Final Rules increasing the salary basis threshold so that more employees are eligible for overtime. Join us for a FREE webinar to discuss the Final Rules effective December 1, 2016 including:

• Understanding the Final Rule
• How the Final Rule is different from the Proposed Rule
• The impact of the Final Rule on businesses
• Options for implementing the Final Rule in your workplace




September 2016 General Membership Meeting, Toledo Area
Thursday, September 8, 2016 from 7:30 AM to 9:30 AM

The Pinnacle
1772 Indian Wood Circle
Maumee, OH 43537

Join us Thursday, September 8th, for speaker Kim Ruyle presenting "Anesthetic for the Performance Appraisal Root Canal: Pain Free Urgency & Accountability."

Kim will discuss how performance management shapes organizational culture, drives profitable growth, and engages and retains a productive workforce. But performance management is generally deemed ineffective. Many managers would endure a root canal rather than deliver a performance appraisal. Insights into performance management can be learned by studying neuroscience principles. This session explores those principles and provides practical guidelines for enhancing performance management in your organization.

Click HERE for Event Flyer


Learning Objectives:

• Clearly set expectations so employees embrace their responsibilities and are fully aligned with their team.
• Apply understanding of the brain's perception of threat and reward to set goals that engage employees.
• Apply understanding of how the brain learns and makes decisions to provide powerful feedback and performance coaching that is highly valued by employees.
• Transform the performance appraisal process from a dreaded event to a capstone for the business cycle that recognizes and reinforces accomplishments and lights a booster rocket for performance into the next business cycle.

Agenda:
7:30 a.m. - 8:00 a.m. Registration & Breakfast
8:00 a.m. General Business Meeting
Speaker to follow.

Note:
All member and non-member meeting registrations must be made online, even if you are paying at the door or by mailing a check. To pay at the door, ENTER and APPLY Discount Code PAYATDOOR. If mailing a check, ENTER and APPLY Discount Code PAYBYCHECK. Then mail check, payable to NOHRA, to:

NOHRA, P.O. Box 748, Maumee, OH 43537.


Check Out Our Key Sponsors