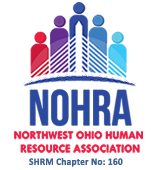 It's NEVER too late to join NOHRA! Membership rates will be cut in half effective June 1, 2016. See all the events below that will be worth the membership dues! (Excludes Ohio HR Conference)
New Rates:

SHRM Member: $25.00
Non-SHRM Member: $37.50
In Transition / Retired: $15.00
Student: $10.00
THRAC 2016 - You Can't Spell HERO Without HR!
Thursday, November 3, 2016 from 7:00 AM to 4:30 PM
15th Annual Toledo HR Associations' Conference

Faster than a speeding stenographer. More powerful than aromas from the cafeteria microwave. Able to solve employee problems in a single day. Believe it or not, in HR, we all have the opportunity to be heroes in the workplace. After all, you can't spell HeRo without HR. This year's Toledo HR Associations' Conference will help you break through to reveal your inner HR hero. Learn from recognized HR heroes who will help you sharpen your keen HR sense and unleash your explosive super powers each and every day to explore new, simple, creative ways to make positive changes in your organization.

For complete details and registration, and sponsorship opportunities visit The Employers' Association website by clicking here.

Note: NOHRA Members that are not members of The EA will need to contact The EA for the NOHRA member rate.
2017 - HR Conference Cruise
Saturday, January 14, 2017 through Thursday, January 19, 2017 from 4:30 PM
Your Next HR Conference Cruise Registration

Saturday, January 14, 2017 to Thursday January 19, 2017 on the beautiful Independence of the Seas

Click HERE For Conference Program Schedule.

Cruise Schedule:
Saturday, January 14, 2017 - depart 4:30pm
Sunday, January 15, 2017 - Cruising
Monday, January 16, 2017 -Cozumel, Mexico
Tuesday, January 17, 2017 - Puerto Costa Maya, Mexico
Wednesday, January 18, 2017 - Cruising
Thursday, January 19, 2017 - Arrive in Fort Lauderdale, Fl at 7am.


Click here for more information and/or to register.


Check Out Our Key Sponsors