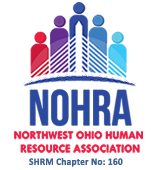 May 2016 General Membership Meeting
Thursday, May 19, 2016 from 7:30 AM to 9:30 AM
The Pinnacle
1772 Indian Wood Circle
Maumee, OH 43537


Join us Thursday, May 19th, for the topic of "Visionary Human Resources" presented by nationally recognized speaker, Heather Kinzie.

Heather will discuss what she believes are the four primary purposes of HR's existence, and how we, as HR professionals, are tasked to engage in activities in direct support of our higher purpose.Heather will inspire us to take a hard look around at who either suffers or benefits from our work and finally, will encourage each of us to take an even harder look into the mirror as we move forward with our careers.

Click HERE for Event Flyer

This General Membership Meeting is sponsored by Hylant.



The lunch sponsor is Eastman & Smith.
You will be able to:

-Identify and clearly understand the significant role you plan in an organization's success;
-Understand the clear difference between a line-item and a value-added program in your organization's structure;
-Heighten your awareness of how you and your HR program impacts the employee, leadership, the organization, and the community.
This session is approved for 1.0 HRCI credit & has been submitted for SHRM credit.


Meeting Agenda:
7:30 a.m. - 8:00 a.m. Registration & Breakfast
8:00 a.m. - 8:15 a.m. General Business Meeting
Speaker to follow.

Note:
All member and non-member registrations must be made online, even if you are paying at the door or by mailing a check. To pay at the door, ENTER and APPLY Discount Code PAYATDOOR. If mailing a check, ENTER and APPLY Discount Code PAYBYCHECK. Then mail check, payable to NOHRA, to NOHRA, P.O. Box 748, Maumee, OH 43537.

If you have any questions, please email arrangements.chair@toledoshrm.org


Check Out Our Key Sponsors