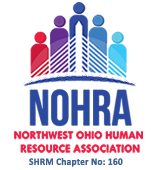 It's NEVER too late to join NOHRA! Membership rates will be cut in half effective June 1, 2016. See all the events below that will be worth the membership dues! (Excludes Ohio HR Conference)
New Rates:

SHRM Member: $25.00
Non-SHRM Member: $37.50
In Transition / Retired: $15.00
Student: $10.00
2016 Jim Vassar Memorial Golf Outing
Friday, August 5, 2016 from 7:00 AM

Bedford Hills Golf Course
6400 Jackman Rd
Temperance, MI 48182

Join NOHRA, as we host the Annual Jim Vassar Memorial Golf Outing! There will be great golfing, miniature golf, networking, a delicious steak/chicken lunch, golf contests, and more!

7am - Registration, Continental breakfast, Unlimited Range balls & Putting Green
8am - Shotgun start
11:00am - Challenge Golf (Miniature Golf)


All proceeds Benefit the NOHRA Student Scholarship Fund.

Click HERE for Event Flyer


If you attended this event last year, you know we had a blast! There were lots of winners for the numerous contests including longest drive, closest to the Pin, & closest to the line. Also returning, is the Infamous Dress Up Hole - make a donation and you get to 'dress up' before taking your shot. It's hilarious, it's fun, and all for a good cause!

Join the fun and register as part of a team or individually. Individual registrants who do not have a foursome group, will be assigned to a team. Registration deadline is July 31, but everyone is encouraged to take advantage of the early bird rates which end July 20th.

For questions about the golf event or to inquire about company sponsorship opportunities, contact Jodi Heisler at jlpickens2@yahoo.com.
NOHRA Networking Event - LIONS and TIGERS & HR...Oh My!!!
Wednesday, August 24, 2016 from 4:00 PM to 7:00 PM
African Lodge - Toledo Zoo
2 Hippo Way
Toledo, Ohio 43609

What do you get when you put together HR professionals, zoo animals, road rally events on foot, cameras/selfie sticks, and a list of crazy clues?

ANSWER: One of the funniest HR networking events of the year!

Join the fun! Tickets are only $20 per person, and includes:
• Entrance to the Toledo Zoo
• Private Party in the African Lodge
• A Spot on a 'road rally' team - explore the Zoo in a whole new way! (it's going to be fun!)
• Dinner - 'The Roadrunner Buffet'
• Chance to win team prizes
• Guaranteed the funniest HR Network event hosted to date!

Click HERE for Event Flyer


Due to limited space, the event is only open to NOHRA members. Reserve your spot early!

The event will kick off at 4:00pm with networking and a cash bar. Next up, we are ready to introduce our vendors and line our teams up at the start line for the 1st ever HR Road Rally, 'selfie stick style' through the Toledo Zoo. Your team - Crazy Clues - Selfie Photos!! You will have a blast while getting to know others on your team.There will be prizes, but we are revealing just yet how the winners will be selected. It's all part of the fun! Finally, everyone will gather in the Lodge for dinner and more fun, including some hilarious zoo road rally pictures, recognition of Past Presidents, and prizes!
September 2016 General Membership Meeting, Toledo Area
Thursday, September 8, 2016 from 7:30 AM to 9:30 AM

The Pinnacle
1772 Indian Wood Circle
Maumee, OH 43537

Join us Thursday, September 8th, for speaker Kim Ruyle presenting "Anesthetic for the Performance Appraisal Root Canal: Pain Free Urgency & Accountability."

Kim will discuss how performance management shapes organizational culture, drives profitable growth, and engages and retains a productive workforce. But performance management is generally deemed ineffective. Many managers would endure a root canal rather than deliver a performance appraisal. Insights into performance management can be learned by studying neuroscience principles. This session explores those principles and provides practical guidelines for enhancing performance management in your organization.

Click HERE for Event Flyer


Learning Objectives:

• Clearly set expectations so employees embrace their responsibilities and are fully aligned with their team.
• Apply understanding of the brain's perception of threat and reward to set goals that engage employees.
• Apply understanding of how the brain learns and makes decisions to provide powerful feedback and performance coaching that is highly valued by employees.
• Transform the performance appraisal process from a dreaded event to a capstone for the business cycle that recognizes and reinforces accomplishments and lights a booster rocket for performance into the next business cycle.

Agenda:
7:30 a.m. - 8:00 a.m. Registration & Breakfast
8:00 a.m. General Business Meeting
Speaker to follow.

Note:
All member and non-member meeting registrations must be made online, even if you are paying at the door or by mailing a check. To pay at the door, ENTER and APPLY Discount Code PAYATDOOR. If mailing a check, ENTER and APPLY Discount Code PAYBYCHECK. Then mail check, payable to NOHRA, to:

NOHRA, P.O. Box 748, Maumee, OH 43537.


Check Out Our Key Sponsors